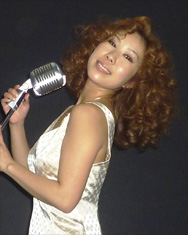 Given a life to sing jazz
Not just jazz but soulful jazz
Satsuki Iida(Vo)
~New face jazz vocalist Satsuki sings with a traditional jazz spirit~
Satsuki respects standard jazz numbers as they are the gifts passed from all the jazz lovers that kept traditional jazz going. She blends in her unique personality in them and sings for today.
Satsuki was born in a musical family with particular influence of Jazz in Tokyo in the mid 80s – bassist as grandfather, jazz school founder as father, classical music piano instructor as mother. Satsuki started playing the piano at the age of 3. She became interested in R&B and other so-called black music genre during her early teens. When turned 14, she started her voice training with Ms. Yoshiko Gotoh and Ms. Tomoko Ishii and made her jazz live house debut at the age of 17. She started focusing on her profession as a jazz vocalist during her college years.
(【Birthday】 May 21, 1985. 【School】Graduated from Keisen Junior and Senior High School, Tokai University Health Scientific Department Social Work Major.)
Below are the some highlights of Satsuki's  Accomplishments:
In 2007, she won Grand Prix at the 7th Jazz day Shinjin (new face) Vocalist Grand Prix Contest.
In 2008, she was awarded "Panelists' Special Award" at the 3rd Saitama Shintoshin Jazz Vocal Contest.
In 2009, she attended "5-Weeks Summer Program" at Berklee College of Music in Boston and learned from Ms. Beverly Hanshaw Smith in New York. During her stay, she had privileges to sing at "Showmans," "Minton's Play House" and many other prestigious jazz live Houses.
In 2010, she was awarded "Shinjin (new face) Award" at the 26th Japan Jazz Vocal
In November 2011, when she visited Atlanta, GA for an album recording, she made an appearance at a concert hosted by Atlanta Jazz Association with Ms.Takana Miyamoto Trio. Satsuki's performance was highly applauded. "When eyes closed, one would mistaken Satsuki for an African American big Jazz singer from say like New Orleans."
In May, 2011, along with the release of her first album"I thought about you" which was
recorded in Atlanta Georgia, she conducted a national tour in which she traveled 10 cities during the summer 2011.
In August 2011, she participated in "DAEGU INTERNATIONAL JAZZ FESTIVAL KOREA" with Mr. Yutaka Shiina Quartet and had concerts in 4 times.
In 2011, "I thought about you" was chosen as one of the best 35 CDs worldwide in the magazine "Jazz Life"
The voice of Satsuki is profound – full of love and respect for traditional jazz standard numbers. People are
Translated by Natsuko Kiyoshi